You know that quote?
It's better to be 10% under trained than 1% over trained when you step up to the starting line.
Whelp, how about 30% under trained?  Actually that may be pretty generous.  I had big plans for the weeks in between City to the Sea and Big Sur but we've already discussed the sloppiness of October so let's move on.  😉😉
So what is the under trained slacker with an aching ankle thinking about for this weekend?
Big Sur is supposed to be gorgeous- If it takes me longer to run it, well then I get longer to enjoy the view.
Start will be in the low 40's- I haven't quite adjusted to that but at least it won't be too hot.
Bib 3118- Corral D…out of A-L.  What the hell am I doing up there?  Maybe inertia will push me forward and I will run faster?
This is half marathon #6 of 2015, first time I've run that many 13.1's in a year.  Sweet!
Elites- Kara Goucher and Sara Kiptoo- Seriously.  I will be running the same course as elites at the same time-holy crap!   Actually, now that I think about it,  part of the course is an out and back…I may need to keep my phone handy.  😆
Ummmm- this- I need it-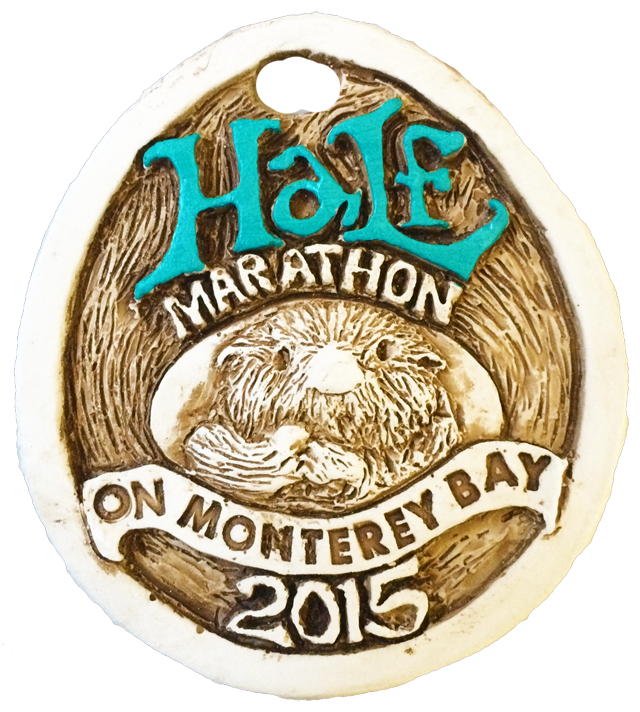 Road trip!  Seriously I never went anywhere before I started running.
Monterey- Home of the aquarium.  We may try and go.  But, man those tickets are stupid expensive.
Community- I'm going to be surrounded by thousands of other people like me.  Those who think that lining up on a cold morning to run 13.1 miles sounds like fun.  😄
Monday- Did I mention I have Monday off?
This could be my last race of the year, at least I chose a good one.    I've been having some odd ankle pain, hello denial, can I move in?
The view- Seriously, the pictures I've seen make this worthy of 2 mentions.  I've actually considered carrying my little digital camera during the run.   Either that or I need a strap for my iPhone.
So instead of goals, I have only one hope.  I want to cross the start line and the finish line smiling.  No head games, no berating myself, just running with a few thousand strangers like me.  Runner's are crazy right?
Good luck to everyone racing this weekend!  Molly, Allison, Rae, Kate, those running Revel Canyon or Wine and Dine, and everyone else I am missing!! 
That otter is awesome, right?